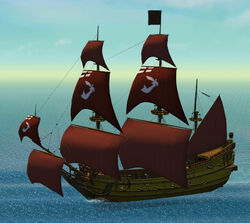 The Lost Ironsides are a minor
Pirate Gang
whose ships patrol the Yucatan from
Ambergris
to
Bluefields
and are most often encountered by mid-level
British
captains.
Their special ship is the Redeemer, which drops Trophy: Soldier's Catechism (+150 reputation with Board of Marque).
The Lost Ironsides are a source of Monkey Island Rum.
Typically between levels 14-30, The Lost Ironsides uses the following ships:
Reputation & Bounty
Edit
The reputation earned by defeating a Lost Ironside is divided up among the following factions:
The mission Lost Ironsides Bounty may be obtained from the Pirate Hunter in Belize.
Notable items that can be looted from Lost Ironsides ships include the following:
Level 16

Obsidian Blade (1)
Obsidian Earrings (5)
Obsidian Jaguar (5)

Silver Skull (1)
Silver Necklace (1)
Stone Eagle (3)
Stone Mask (4-5)
Level 24

Obsidian Blade (3)
Silver Earrings (5)
Silver Goblet (1)
Silver Plaque (5)

Stone Eagle (6)
Stone Mask (4)
Level 25

Gold Pendant (3)


Obsidian Earrings ( 6)


Silver Blade (1)


Silver Pendant (1)
Ad blocker interference detected!
Wikia is a free-to-use site that makes money from advertising. We have a modified experience for viewers using ad blockers

Wikia is not accessible if you've made further modifications. Remove the custom ad blocker rule(s) and the page will load as expected.