Mission
(repeatable)


Mixed Mission
This mission involves both Avcom and Ship combat at various stages.
Solo Mission
This mission may only be completed solo.
Shovel Ready

Nation:
Career:
All
Location:
Bahamas
Level:

This is a level 50 mission, and becomes available at character level 45.

50

This is a level 50 mission, and becomes available at character level 45.

NPC:
Simon Jones
Rewards:
16000 Doubloons
1440 Experience

Hexham's Figurehead
Various Loot items
Previous:
Treasure Map
Next:
As Promised


Information based on version

2.15.39.0

Current game version is 2.15.46.0
Black Flags and Dread Saints, Chapter 4

You have the map, the lens, the cypher, and Zoe's notes.
After all, what could possibly go wrong now?
Mission Notes
Your ship and mates will be waiting for you in Cat Island, once you finish.
Mission Objectives
Defeat the Dread Saint Ambush: 0/3

Beach Your Ship Before She Sinks.
Speak with your ship's First Mate about making repairs

Scout the Opposite sure
Return to Camp
Give Orders to your Crewmates

Note: Your Gunner and her crew do not hold their position, but wander back to the camp instead.
Follow Map and Dig Up the Treasure.
Return to your Ship
Defeat Thomas Cocklyn in ship combat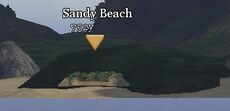 Ad blocker interference detected!
Wikia is a free-to-use site that makes money from advertising. We have a modified experience for viewers using ad blockers

Wikia is not accessible if you've made further modifications. Remove the custom ad blocker rule(s) and the page will load as expected.