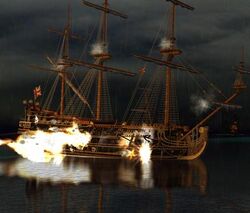 Definition
Edit
A ship of the line, also called a line of battle ship or just battleship, is a large, square-rigged ship with two or three decks of guns designed to maximize the effectiveness of the line of battle strategy. Often carrying upwards of four or five hundred men and officers as well as more than fifty guns, they were the most massive warships of the time. They are often referred to using the Royal Navy's Rating System, (ie, 1st Rate, 2nd Rate, etc.) which categorizes them in order of usefulness to a battle line based on number of guns, decks, crew size, and displacement.
Ships of the Line in PotBS
Edit
In Pirates of the Burning Sea, there are many such ships available. In order of size, they are:

Fourth Rates
Third Rates
Second Rates
First Rates
Ad blocker interference detected!
Wikia is a free-to-use site that makes money from advertising. We have a modified experience for viewers using ad blockers

Wikia is not accessible if you've made further modifications. Remove the custom ad blocker rule(s) and the page will load as expected.