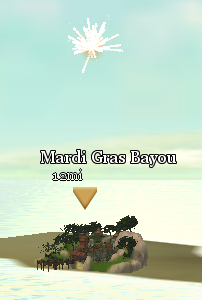 Your first contact with the Mysterious Harlequin will be in Starter or Capital cities, announcing the time for Carnival and Fat Tuesday is upon us.
Missions & NPC Giver
Edit
It's All About The Beads from Donovon Bryant.
Digging in the Name Of It from Ryan Samul.
Gluttons for Punishment from Carlye Fuller.
The Crash of Cannons from Samantha Velazquez.
Just a Rat in a Cajun from Mysterious Harlequin.

Ad blocker interference detected!
Wikia is a free-to-use site that makes money from advertising. We have a modified experience for viewers using ad blockers

Wikia is not accessible if you've made further modifications. Remove the custom ad blocker rule(s) and the page will load as expected.