Home
Talk

89
5,608pages on
this wiki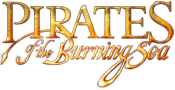 Please take a moment to Sign Up in order to see this Wiki at its best.
| | | | | |
| --- | --- | --- | --- | --- |
| | | 5,608 articles since August 2006 | | |

EDITS NEEDED
With the latest patch 2.14.21 going live we need ranges edited for all cannons. Max cannon range is now 750 yards for all cannons, swivel guns range is 125 yards. With the new accuracy curves we need the 200/400 accuracy figures adjusted.
How to update your game after a patch
To update your game you will need to run the INSTALLERagain and once the new files have been downloaded to you computer you will be able to access the game as you normally do. Until you do this, when you open the game, you wont see any servers.
UPDATES
Heavy, Trader and Sleek versions of ships can no longer be produced, the recipies to make them have been removed from the game and they are referred to as "Obsolete." Any deeds or ships created before the date the recipes were removed from the game can be sailed or traded as usual.
--McCullogh (Talk) Adoptive parent of PotBS Wiki 16:21, January 10, 2013 (UTC)