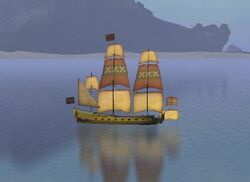 De Zeetrekkers are a major Pirate Gang who can be found in the southern Antilles. They are unique in that sinking them grants reputation with each Euro Trader faction.
Reputation
Edit
The reputation earned by defeating a Zeetrekker is divided up among the following factions:
Trophy & Bounty
Edit
De Zeetrekkers offer no special trophies or bounty missions. They do have an elite ship named Opperhoofd who drops no trophy.
Ad blocker interference detected!
Wikia is a free-to-use site that makes money from advertising. We have a modified experience for viewers using ad blockers

Wikia is not accessible if you've made further modifications. Remove the custom ad blocker rule(s) and the page will load as expected.