| | |
| --- | --- |
| | Avast, matey! This article be outdated. Handsomely check if this here article still be shipshape. If so, smartly edit the | version = to the current game build (2.15.46.0). |
Only Pirates can get a Careening Camp.
A pirate can get a deed for a Careening Camp from a NPC named the Brethren Quartermaster in the South East (Fort Vasseur when using the "show destinations" shortcuts) area of Tortuga by turning in ten (10) Captured Banners.

A careening camp can also be used to make deeds to refill the durability of selected ships.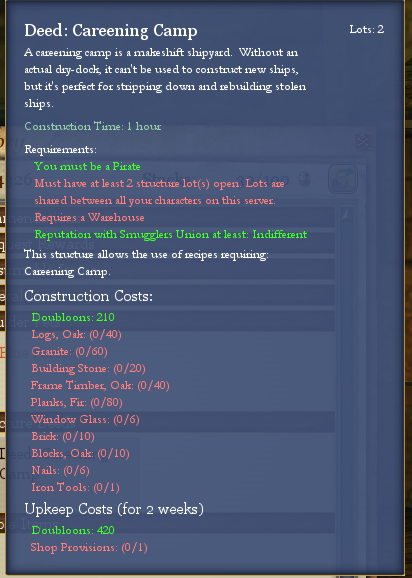 Ad blocker interference detected!
Wikia is a free-to-use site that makes money from advertising. We have a modified experience for viewers using ad blockers

Wikia is not accessible if you've made further modifications. Remove the custom ad blocker rule(s) and the page will load as expected.