Mission
(repeatable)


Mixed Mission
This mission involves both Avcom and Ship combat at various stages.
Epic Mission
This mission is recommended for a full group of up to 6 captains.
Cannons of Heaven and Earth

Nation:
Career:
All
Location:
Besieged Tortuga
Level:

This is a level 50 mission, and becomes available at character level 45.

50

This is a level 50 mission, and becomes available at character level 45.

NPC:
Serafina Fandino
Rewards:
4325 Doubloons
1875 Experience

Refugees of Tortuga: Gain 125 points
Next:
The Dread Saint


Information based on version

2.1.116.0

Current game version is 2.15.46.0
This is an epic mission in Besieged Tortuga.
Mission Objectives
Sink Cardinal Xin's Ship
(Optional) Destroy the Careening Camps in the First Shoal by Killing Occupants
Help Jonathan Stroh Rescue Vivienne Stroh
Mission Notes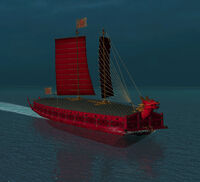 Sink Cardinal's turtle ship by firing at its stern or bow (he will heal if you fire at its sides). Avoid sailing in front of him, he can deal a lot of damage with his fore gun.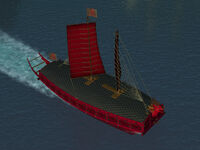 Sail as fast as you can to Cardinal Xin's cave for the avcom part of the mission, where each player will receive 1
Reclaimed Loot
.
This mission is one of the pre-requisites for the The Dread Saint mission.
Ad blocker interference detected!
Wikia is a free-to-use site that makes money from advertising. We have a modified experience for viewers using ad blockers

Wikia is not accessible if you've made further modifications. Remove the custom ad blocker rule(s) and the page will load as expected.